Environmental Testing
Vipac houses a comprehensive range of mechanical and climatic testing equipment, enabling us to subject your products to almost any service conditions the natural environment may throw at them. We're accredited for ISO 17025 by NATA and A2LA, and offer confidential testing services to a wide range of globally recognised standards including MIL-STD 810, MIL-STD 202, MIL-STD 167, DEF STAN 00-035, IEC 60068, IEC 61373, ISO 16750, EN 50125, EN 50155, AS/IEC 60529, and ISTA. We're also able to provide testing services to your own internal specifications, or work with you to develop a customised scope and test plan.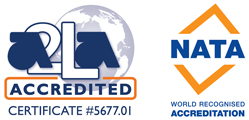 As well as testing to industry and regulatory standards, our experience and capabilities are employed by clients to develop testing regimes as part of their product development cycle.
To view all the testing services and standards that Vipac tests to, click here for our Melbourne lab, and here for our Sydney lab.
Please see below for some of our environmental testing services in detail:
Vibration, Shock and Drop Testing   (read more...)
Temperature and Humidity Testing    (read more...)
Water and Dust Ingress Protection Testing   (read more...)
Sand and Dust Testing   (read more...)
Salt Corrosion and Fog Testing   (read more...)
Altitude Testing   (read more...)
Tensile and Compression Load Testing   (read more...)
Fatigue and Load Testing / Custom Test Rig Design   (read more...)
ADR Testing (including Towbar Testing)
Packaging testing   (read more...)
Other services Vipac offers that are related to Environmental Testing: