HVAC testing
HVAC performance testing (or "air distribution performance testing") is key to determining the effectiveness of specific air distribution systems. Our independent and NATA-accredited Air Distribution & Acoustic Laboratory is the largest in Asia-Pacific, with the ability to conduct full-scale mock-ups of various systems.
Vipac's labs are NATA-approved and certified with ISO/IEC 17025 and AS/NZS ISO 9001:2015. This ensures our acoustic test and environmental chambers are independently audited, and that international best practices are followed.
Our Air Distribution & Acoustic Laboratory, measuring 9 m x 4.2 m, can be used to conduct full-scale mock-ups of various HVAC systems. It's large enough to allow airflow patterns to be modelled in three-dimensional space. Flow visualisation and video recording of smoke patterns can also be readily undertaken.
With a "quiet air supply," the lab can produce measured flow rates from 10L/s to 3.500 L/s, at static pressure up to 1kPa. Air can be supplied at temperatures between 7°C and 50 °C for non-isothermal testing. Conforming to ISO 3741, it's also connected to a second reverberation chamber (5.2 m x 5.2 m x 5.2 m), allowing for the testing of insertion and transmission loss.
Services include:
Testing to ASHRAE, ARI, ADC, AMCA, ISO, BSI, and Australian standards
Fan testing (up to 500kW)
Air diffusion (10°C to 45°C) and occupant comfort testing (ADPI, PMV and PPD)
Sound testing (sound power determination)
Leakage testing of smoke and fire dampers
Airflow visualisation
Measurements of flow, pressure drop and throw
Silencer insertion loss (static and dynamic)
Water penetration, discharge coefficient, and wind load testing of weather louvres
Systems and component testing:
Fans (design, development, and performance testing)
Louvres and vents (design, development, and performance testing)
Grille, diffusers, and other HVAC component testing
VAV (variable air volume) terminals (singular and multiple outlets)
Evaporative air-conditioners
Duct (silencer), including general domestic ventilation, cooling / heating, and industrial use
Light / air boots, and mixing boxes
Fibrous insulation, and dampers
For further information, please click on one of the below areas of testing.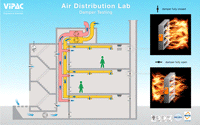 Smoke and fire dampers in actionDamper testing   (read more...)
Grille, diffuser, and other HVAC component testing (read more...)
Louvre performance testing (read more...)
VAV terminals performance testing (read more...)
Duct (silencer) performance testing (read more...)
Fan performance testing (read more...)
Chilled beams performance testing (read more...)
Other services Vipac offers that are related to HVAC testing: